SG Tanks have been in the oil tank industry for over 20 years, providing storage tanks and related services to domestic, commercial and industrial clients across the South East. As well as manufacturing and supplying steel and plastic oil tanks, our OFTEC-accredited oil tank installers and operatives are trained to install tanks at any type of property and offer professional advice and servicing. Our team are always happy to offer recommendations, site surveys and free quotes to help clients choose the best tank for their needs.
As a locally-based firm, we are proud to work with hundreds of businesses and homeowners across Sussex including Chichester, Henfield and further afield. Over the years we have built up a reputation for consistently delivering an excellent service and we are always pleased to read reviews confirming complete customer satisfaction.
Oil Storage Tanks
We offer a wide range of tanks, designed to suit domestic and industrial requirements. All of our steel tanks are manufactured in-house, allowing us to tailor them to suit the precise needs of each client. This is complemented by our selection of plastic tanks produced by DESO, which includes options for single-skinned, double-skinned and bunded oil tanks.

Our tanks are optimised for oil storage, but can also be used for commercial rainwater harvesting, waste oil wells and for a range of agricultural and equestrian purposes. All plastic DESO tanks come with a two-year warranty and our own steel tanks are provided with a five-year warranty.

You can also find a selection of tank accessories in our online shop, such as spill pallets, fuel dispensers and tank stands. If you would like more information about any of our products, can't find what you're looking for or aren't sure about what you need, please get in touch and our friendly team will be happy to assist you.
Installation
At SG Tanks, we offer an OFTEC-licensed installation service, so that clients can be sure that our work is carried out in a safe, environmentally-friendly way. We always look to keep our carbon footprint as low as possible – an approach which has contributed to our positive reputation in the local industry.

Our oil storage installations are always undertaken in an efficient and conscientious way, even arranging removal of your old tank to ensure that your property is left conveniently clean and tidy. Should you encounter any problems following you oil tank installation, we operate a 24-hour telephone helpdesk to assist you.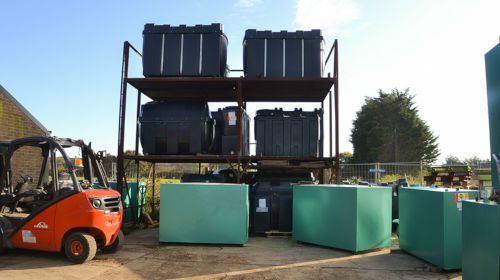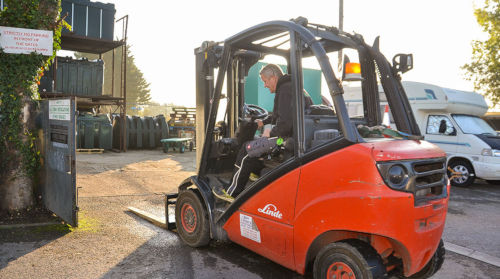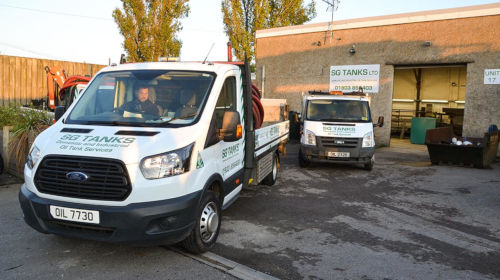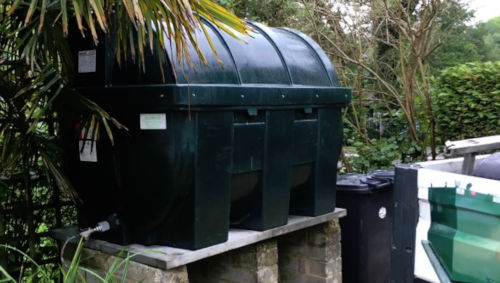 Other Services
Oil storage tanks require regular maintenance and servicing to ensure a long working life. Our goal is to assist our customers in keeping their tanks functioning at the best possible level, which is why we offer a wide range of additional tank-related services, such as line testing. We can also fit tanks with monitoring devices such as fuel gauges, flow meters and over-fill prevention measures.
 
At SG Tanks, our oil tank installers and operatives have extensive experience in carrying out oil tank services, and you can depend on us to help you meet all of your fabrication, engineering and installation needs. Should you ever have urgent concerns about the condition of your tank, or notice signs of a leak or spill, don't hesitate to ring our 24-hour emergency call-out number.
Environmentally Conscious
We are an environmentally friendly company who are constantly looking to reduce our carbon footprint in whatever way possible during tank installation services. Our level of service has attracted plenty of positive reviews and testimonials in the past and we are always delighted to hear back from satisfied clients. Our main goal is to make sure we surpass customer expectations and we are looking to maintain our position as a leading supplier and fabricator of oil tanks in the Surrey area.