If you need expert assistance with the removal of an old oil tank or any advice on replacing your existing tank, then you've come to the right place.
Here at SG Tanks, we have more than 20 years' experience installing oil tanks throughout Southampton and across the southern and southeast England. As a reputable supplier, we pride ourselves on our ability to ensure each customer is left 100% satisfied with our highly professional level of service.
No matter what your requirements may be, we are confident that our team has the practical and technical experience to help.
Oil Storage Tanks
SG Tanks offer a huge variety of oil tanks for use at domestic, commercial or industrial-based properties. Whether you're looking for a bespoke-designed steel tank or a traditional plastic DESO tank, we stock a huge number for you to choose from.
All our steel tanks are manufactured in-house, meaning we can tailor each one to the precise requirements of each client we work with. Once produced, we will then provide you with a five-year warranty to give you complete peace of mind.
Our plastic DESO tanks are not only optimised for oil storage, but they can also be used to harvest rainwater and perform several other agricultural functions. Each of these tanks comes with a two-year warranty, again to provide you with complete reassurance.
We also stock a large selection of tank accessories which you can find in our online shop. From spill pallets to tank stands, if you need any more information about any of our products, please do not hesitate to get in touch.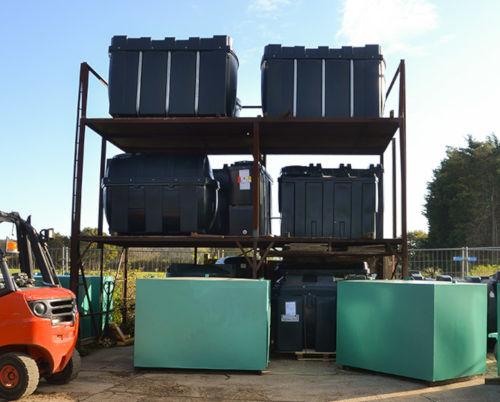 Installation
Each of SG Tanks' operators is expertly trained to supply, install and maintain oil tanks to OFTEC standards. We always aim to carry our work out in the safest, environmentally-friendly way in order to meet the high professional standards we set for ourselves.
Keeping our carbon footprint as low as possible is absolutely imperative to our team and is one of the key reasons for our positive reputation.
Other Services
Oil storage tanks require regular maintenance and servicing to ensure a long working life. We aim to help our customers keep their tanks functioning at the optimum level, by providing a wide range of tank-related maintenance services.
Our team has substantial experience in carrying out a variety of oil tank services. Whether you require assistance with fabrication, engineering or installation, we are the team to help.
Plus, if you ever have any urgent concerns regarding the condition of your tank, our 24-hour emergency line will be able to help – whatever the issue or time of day might be.
Environmentally Conscious
As an environmentally friendly company, we are always looking to reduce our carbon footprint as much as possible. Over the years, we have received many positive reviews and are delighted to hear back from all our satisfied clients. We make it our aim to always surpass customer expectations, in order to maintain our position as one of the leading oil tank suppliers in Southampton.