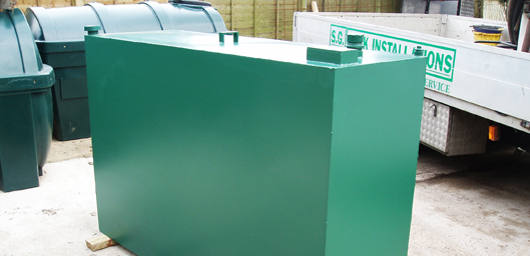 When it comes to choosing a supplier for your oil tank, it is crucial that you make the right decision for the safety of your site and anyone working on your land. SG Tanks is one of the best suppliers of oil tanks for agricultural purposes in the South East, and between our team, we have many years of experience, making us experts on agricultural oil tanks. Whether you are based in Sussex, Surrey or Hampshire, we are pleased to be able to offer our services to you.
There are many reasons you may require an oil tank on an agricultural or equestrian site. You may be harvesting rainwater, or storing waste oil. You may need an oil tank for a sectional building or as part of a bund pallet. Whatever the reason, our team will be happy to advise you about the perfect agricultural oil tank for your needs.
The tanks we provide are high quality plastic and steel, and come in single and bunded models. Our steel oil tanks are manufactured in Littlehampton to your exact specifications, meaning you get a custom built oil tank which suits your requirements and fits into the precise space set aside for it. We are one of the top suppliers of DESO oil tanks in the South East, and our many happy customers can vouch for the quality of our products.
We also offer a 24 hour emergency callout service if you find a problem with your oil tank or you have any concerns about the safety. We will take all the necessary steps to maintain the safety of your tank, including using fireproof screens and checking the line pressure.
For more information about our agricultural oil tanks or to arrange a free site survey, please contact SG Tanks today to speak to a member of our team about your requirements.