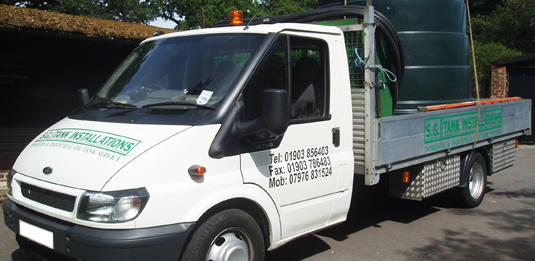 At SG Tanks we strive to provide a service that suits our customers' needs perfectly, whether you're looking to buy a brand new bunded oil tank or you simply require expert maintenance. One service that allows us to stand out from the crowd is our truck-mounted crane.
Clients love our cranes because they allow us the flexibility to easily deliver large oil tanks to difficult-to-reach areas. We can conveniently lift deliveries over garages or sheds, so no matter where you need your oil tank, we can help.
Unlike many businesses providing oil tank installation, we don't need to use a large lorry to carry the tank. This allows us to gain access through narrow lanes that other operators simply can't do. We can deliver or remove tanks quickly, efficiently and safely, without the risk of any damage to your property.
With more than 25 years of experience, we have provided oil tanks for customers all across the South East. So don't hesitate to contact us if you'd like more information on the kind of tank we can offer you.