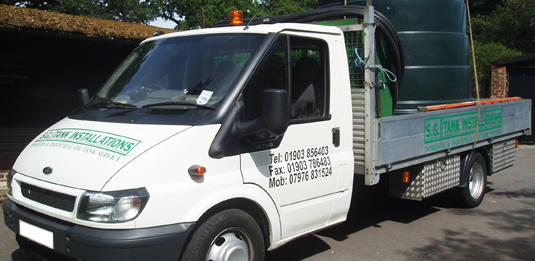 The SG Tanks team has been very busy over summer, and we're pleased to have had some glowing testimonials to show for it. We're grateful to all of our customers who have provided us with feedback, which helps us to maintain and improve our service and levels of customer satisfaction.
For more reviews, please visit our Checkatrade profile.
---
Old oil tank removed and new one fitted
"Very helpful right from the enquiry stage on the telephone and this high level of commitment continued right through until the job was complete. From arriving promptly on time as agreed and changing the tank over. Sean and Mark made sure that we were informed on what was going to happen throughout the whole process. They made sure the installation was 100% compliant with current regulations and only left our house when we were fully satisfied. I must also say they made sure the site was spotless when they left. Highly recommended."
Overall score on Checkatrade: 10
Customer in Haslemere, 16 August 2017
---
Replacement tank due to leakage of original tank
"Very fast efficient replacement. No mess left behind. Excellent job."
Overall score on Checkatrade: 10
Customer in Uckfield, 2 August 2017
---
Emptied oil tank, moved it, connected it to second oil tank, refilled it.
"Fantastic company. Punctual, polite, very tidy work, careful about surroundings. Why aren't all companies like this?"
Overall score on Checkatrade: 10
Customer in Alton, 11 July 2017
---
Replacing old tank with new, bunded tank.
"Friendly, efficient and professional service. Speedy too. Would definitely recommend this company."
Overall score on Checkatrade: 10
Customer in Haywards Heath, 22 June 2017
---
Moving an oil tank
"Very approachable and knowledgeable. Came to inspect the site and offered advice. The workmen arrived on time and completed the work quickly and fully"
Overall score on Checkatrade: 10
Customer in Crowborough, 14 June 2017
---
Oil tank replacement
"I had an oil tank split and rang a few companies. Remainder of oil rescued, new tank fitted and rescued oil put back into new tank.
SG Tanks were incredible. I rang several companies and SG Tanks were with me within the hour and siphoned off the remaining oil. Relaid surface for tank and put in additional fire wall. New tank fitted and remaining oil put into new tank. They were so efficient and polite. Would highly recommend."
Overall score on Checkatrade: 10
Customer in Arundel, 24 May 2017