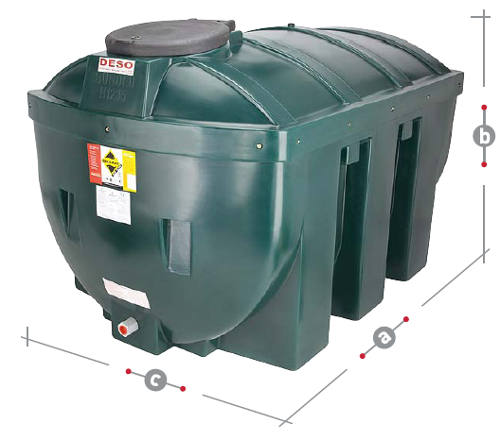 Nobody wants an oil spill – it's bad for the environment, unpleasant for your home and painful for your wallet. In our experience, the majority of domestic oil tank leaks or spills are completely preventable and are usually down to improper tank maintenance or accidental damage. Here are 3 of the most common causes of a domestic oil spill, and how they can be easily avoided.
Oil tank failure
If an oil storage tank fails completely, you're going to have a serious mess on your hands. The good news is that a tank will rarely fail unexpectedly, and early warning signs are easy to spot. Schedule a regular inspection every few months, and keep up with the mandatory annual check by an OFTEC-qualified professional.
Key signs to look out for:
– Corrosion and rusting on the tank body
– Weak spots on the seam welding
– Inadequate footing or unstable ground creating strain
– Debris which has fallen on top of the tank
As long as your tank is properly installed, used and maintained, it's likely to last many years.
Pipes and fixtures
Faulty pipework and fixtures are accountable for a significant number of storage tank leaks, typically due to being damaged or improperly maintained. When installing your tank, make sure it's positioned so that valves, openings and monitors can be easily accessed – if filling, inspecting or cleaning your tank is awkward, it's less likely to be done thoroughly and carefully.
During your inspections, look out for pipework that is under strain from pressure or cold weather, and make sure you replace corroded components quickly, and that your tank openings are kept secure when not in use.
Vandalism
Unfortunately, oil storage tanks can occasionally attract the wrong kind of attention and fall prey to petty crime. To combat this, it's worth keeping your tank secure (read our post on tank security here), and fencing it off from general access. This can also help to prevent accidental damage from garden equipment or vehicles grazing the side of the tank.
Don't underestimate the cost of an oil leak. Aside from repairing and refilling your tank, you'll face the cost of extensive environmental clean-up and possible fines on top – not to mention the impact it will have on your home and family.
Diligence and proactivity are key to keeping your oil storage tank functioning properly over its lifetime and preventing small or major fuel leaks. If you need a qualified engineer to install, inspect or replace your home oil tank, don't hesitate in calling SG Tanks today, or emailing us via our contact us page.