If you are based in the South East and are looking for a top quality domestic oil tanks, SG Tanks is one of the best suppliers of DESO products in the area. One of our main goals as a company is to ensure that your expectations are met through a level of customer service that allows us to offer you the very best solutions.
We are an expanding company who have taken all the experiences we've had in the past to build effective working strategies that will benefit our clients throughout the areas we provide for, including Surrey, Hampshire and Sussex.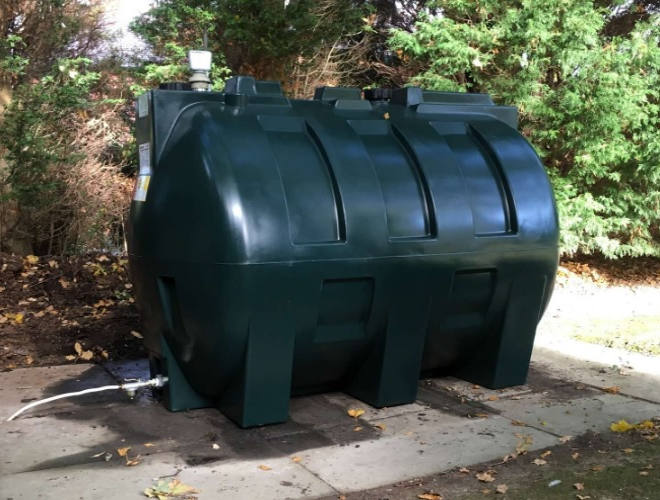 Do I Need a Domestic Oil Tank?
There are many reasons you might require a domestic oil storage tank at your residential property, and with SG Tanks you don't need to worry about a thing, as we will help you from start to finish, whether it's choosing the appropriate tank for your purposes, conducting the installation or coming to help you out if you notice a problem with your oil tank.
Our domestic oil tanks are designed to provide a safe and trusted fuel storage service that is highly efficient, with an extremely durable outer shell that helps to withstand damage and prevent fuel leaks.
Types of Oil Tank
There are several different domestic storage oil tanks we can provide for use at a domestic property. We are able to supply you with a range of safe, excellent quality single skinned and domestic bunded oil tanks in plastic and our own custom made steel oil tanks.
Our tanks come in a wide range of sizes including 1000 litre oil tanks and 2500 litre oil tanks. The DESO range comes with a two year warranty and our custom made steel tanks, made in Littlehampton, come with a five year warranty, so that you can be sure about the quality of the product we are installing at your domestic property.
Maintenance Services
We are dedicated to providing a comprehensive maintenance service should your domestic oil tank ever encounter a serious issue such as a fuel leak or some exterior damage. We are available in oil tank emergencies, so you can rest assured that we will arrive when called upon to carry out extensive, reliable assessment and repair work that will quell any concerns you may have surrounding problems with your existing oil tank or a new installation.
We are on hand to provide our oil tank maintenance services to customers all over the local region, including Surrey, Hampshire and Mid Sussex. You can count on us to respond to any emergency maintenance work that is required for your domestic storage oil tank regardless of your location.
All the DESO domestic oil tanks we sell come with a two year warranty while our own custom steel manufactured tanks come with a five year warranty, so you can have peace of mind that any emergency oil tank maintenance is covered by an extensive warranty. We also have over 200 established customers in the local area and always deliver an exceptional level of customer service to every customer we work for, from the day we install your domestic oil tank to any maintenance service you might require.
Why Choose Us?
There are many reasons you should choose SG Tanks for the supply, installation and aftercare of your domestic oil tanks. We will be able to fit a fire protection screen and carry out all the necessary safety checks to ensure your home stays safe, along with providing 24 hour emergency callout care, so we don't just install the tank and leave you to it.
We have all the necessary skills, knowledge and expertise required to deliver an outstanding service every time, with all our services surpassing client expectations and meeting OFTEC regulation standards. Our reputation makes us the most trusted oil tank installation and maintenance service provider in the South East. With 20 years experience to our name, our high level of service has been widely recognised on Checkatrade so we should always be your first choice!