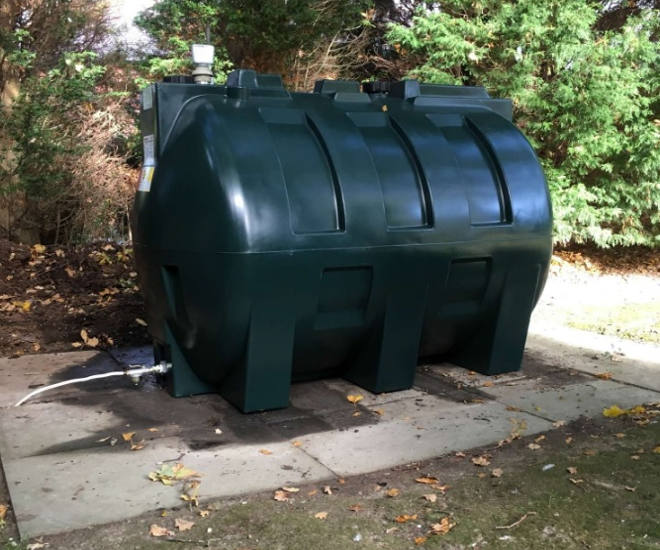 Private oil storage tanks benefit homes and business all across the UK, giving them greater control and peace of mind when it comes to their fuel supply. However, with these advantages comes the responsibility of ensuring that your tank is properly positioned and maintained to prevent it from becoming a fire hazard.
If your tank supports a single family dwelling (a house or bungalow, not a block of flats), holds less than 3500 litres and you use the oil for heating or cooking purposes, then your tank is considered to be a domestic oil storage tank. If you currently own one of these or are thinking about buying one, here are the key fire safety regulations you will need to consider when it comes to positioning a tank that is connected to a boiler.
Tanks must be placed at least 1.8m away from non-fire rated structures, such as a garden shed, including 1.8m from non-fire rated eaves of a building.
The tank must also be positioned 1.8m from the openings of a fire rated building, meaning that you can't place it close to any doors or windows of your home or garage.
Your tank must be kept well clear of the flues from oil-fired appliances – at least 1.8m away from the end.
The perimeter around the boundary of your property must also be taken into consideration, as your tank must be at least 7.6m away from any non-fire rated fencing.
If you intend to screen your tank from view with a hedge or trellis that does not form part of the boundary fence, keep in mind that there must be at least 6m between them.
This might seem restrictive, but the most important thing is that your family and property are kept safe. While it is highly unlikely that a fire will break out, these distances are enforced to reduce that risk even further.
Don't simply forget about your oil storage tank once it's installed, and stay on top of annual inspections with an OFTEC-accredited engineer. If you ever have any concerns about the condition or location of your tank, get in touch with us as soon as possible to help.