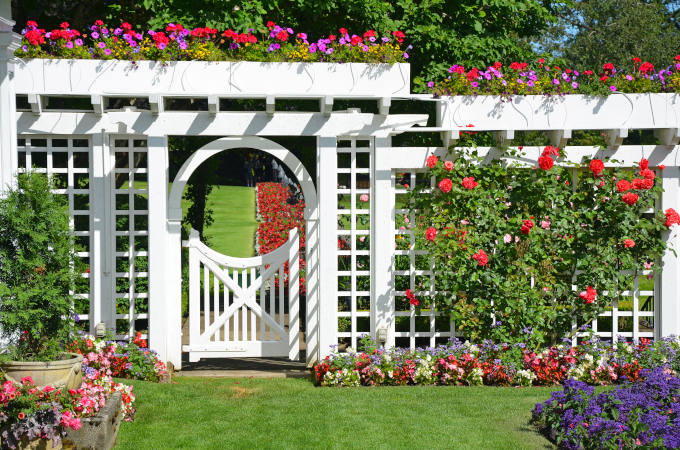 While oil tanks may offer a number of excellent benefits, it's safe to say they're not the prettiest things in the world.
Large, bulky and fairly stocky in shape, they can also take up a lot of room in the garden and leave many property owners looking for ways to disguise or hide them away. So, what can you do if you find yourself in this situation?
Well, we're here to discuss exactly that, highlighting some of the best methods to utilise when keeping your oil tanks out of sight and out of mind.
Install A Trellis Barrier
Surrounding your oil tank with garden trellis can be a highly effective way of prettifying it up a bit.
By growing various plants and flowers up the trellis, or adding a few hanging tools, this will help draw the eye away from the tank and almost form a barrier between the tank and the garden.
Plus, having these plants available could attract various other animals and insects to your garden, helping them grow more healthily.
However, make sure to regularly maintain any plants you grow near your tank as, over time, they could unintentionally limit access if left to continually grow out of hand.
Paint It
OK, while painting your oil tank might not exactly 'disguise' it, it will certainly transform it into more of a centrepiece for your garden.
Whether you'd rather go for more of a plain colour to restore the tank's look or you'd prefer to go all-out with some form of graffiti-style design, the choice is down to you and the colour scheme you are looking to achieve in your outside space.
Generally speaking, however, this painting process can only really be done on steel oil tanks that have seen better days.
Moreover, you will also need to make sure you follow the correct process when painting your oil tank, removing any existing rust before using a primer to paint on top.
Grow A Surrounding Hedge
In a similar way to trellis, adding a hedge around your oil tank can be a great way of blocking your oil tank from view.
And, once more, it could provide a new home for wildlife like birds and insects, bringing a beautiful atmosphere and aesthetic to your outdoor space.
When it comes to finding the ideal hedge to grow around your oil tank though, it's important to work out the type of soil you have in your garden beforehand.
Similarly, you will also need to double-check whether the area actually gets sunlight or not – if it doesn't, your hedge could struggle to grow in the way you want it to and fail to camouflage the tank as intended.
For more great ideas on how to disguise your oil tank, our team here at SG Tanks are always on hand to help. Plus, we offer a wide range of tanks to choose from so, if you'd rather upgrade the look of your existing tank, simply contact us at your earliest convenience to get started.