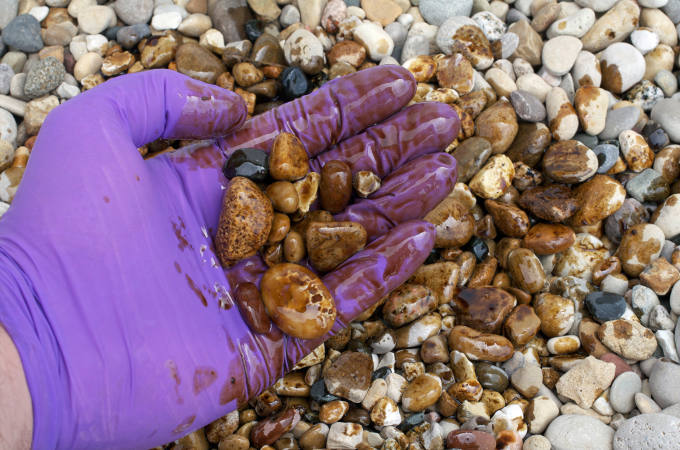 This our second post in our short series of blogs covering what you should do in the event of an oil spill from your domestic oil storage tank. You can read part 1 here.
Immediate actions following a domestic oil leak or spill
Turn your oil supply off at the tank, then try to identify the source of the leak. If possible, contain the leak at its source. You may be able to:
Catch drips in a bucket or tray (nothing that will be used for human or animal food)
Soak up spills with absorbent materials like sand, cat litter or a specially-designed alternative
Temporarily repair your tank with some form of sealant
Start documenting your actions so you can inform the authorities about the specific steps you have taken in response to the spill.
Do NOT try to dilute or wash away the oil with water or detergents. Your goal is to limit the affected area and to try and prevent the spill from reaching waterways including waste drains. If you are concerned that the spill has reached (or might reach) any body of water, you must contact your environmental protection agency. Warn neighbours and do not drink any potentially contaminated water.
Protective measures
If you can smell oil indoors, open all windows and doors for maximum ventilation and keep children and animals away from contaminated areas. Use your oil gauge to estimate how much oil has been lost – how much do you usually use, and when did you last have a delivery?
Exercise caution
Do not eat, drink or smoke while dealing with the spill or after you have come into contact with any oil (take care to avoid getting oil on your clothing or skin).
Any containers or materials that have been used to prevent the spill from spreading need to be stored securely until they can be legally disposed of. If there is oil left in your tank, don't try and remove it yourself – call our team to help you salvage the remaining volume and transfer it safely to a new tank.
Next steps
Contaminated ground and water must be cleaned up and you will need to arrange for your tank and/or faulty components to be repaired or replaced. Our team can assist at short notice, although we do suggest that you contact your insurance provider to check that you are not required to let them arrange an engineer on your behalf.
If you have determined that you are dealing with a minor incident (see our last blog post for guidance) then you may be able to deal with the spillage yourself. Otherwise, the clean-up will need to be carried out by specialist environmental contractors.
Following clean-up, the local soil and water will need to be re-inspected for contamination with a formal report confirming acceptable conditions.
If you are concerned about ageing equipment or damage to your tank that may cause an oil leak, please contact our team on 07976 831524 as soon as possible. We offer emergency assistance and can attend your home or business as a matter of urgency to prevent a spill.
For more information about how to prevent a leak in future, read part three of this series.