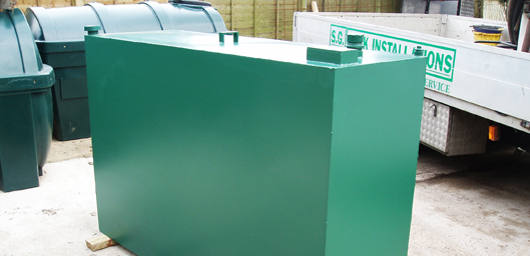 Farms are powered by oil, whether it's used to drive a tractor or to power a grain dryer, but storing oil properly is critical to ensure staff and site safety and guard against environmental pollution and fuel loss.
Another key benefit of having your own oil tank is that you are independent of the national supply and not at the mercy of painful price rises. Instead, you can buy oil in bulk when prices are low and hold back when they are high.
SG Tanks has worked with farms and equestrian centres across Sussex, Surrey and Hampshire for more than two decades, supplying, installing and maintaining high quality, custom-built steel oil tanks and plastic agricultural tanks.
Our customers opt for oil storage tanks for a number of reasons: to manage fuel, waste or storage heating oil or as part of a rainwater harvesting system.
Choose a highly durable steel oil tank, which we custom make in Littlehampton to your specified capacity and dimensions and guarantee for five years, or opt for an economical plastic bunded or single skin DESO oil storage tank, with a capacity of up to 15,000 litres and a two-year warranty.
A bunded tank has two skins so that if the first skin splits or breaks the second skin prevents oil leaking. You'll need a bunded tank if your tank holds more than 3,500 litres (England) or 2,500 litres (Scotland).
Our staff are OFTEC-registered engineers, so you can be certain that tank installation and maintenance meets the UK's strict commercial and industrial regulations.
We help our customers painlessly follow government safety rules without the need to plough through technical tank manuals, guarding against leaks and spills to keep your tank well maintained and functioning smoothly.
Here are some of the services we offer:
Free, professional site survey and estimates
Expert advice on choosing the best tank for you
Quality tank supply and certified installation at the best price
Tank repair or replacement
Minimum fuss, punctual workers and your site left spotless
Supply of other equipment, such as tank gauges and spill pallets
Safety checks, for example using fireproof screens and checking line pressure
Fuel gauges and overfill prevention, pumping out and removing old tanks, flow meters, welded or threaded pipework, replacement of fuel lines and lockable steel cabinets
Aftersales support and 24-hour emergency call out
If you have any questions about agricultural oil tanks or to arrange an inspection with our friendly team please contact us.