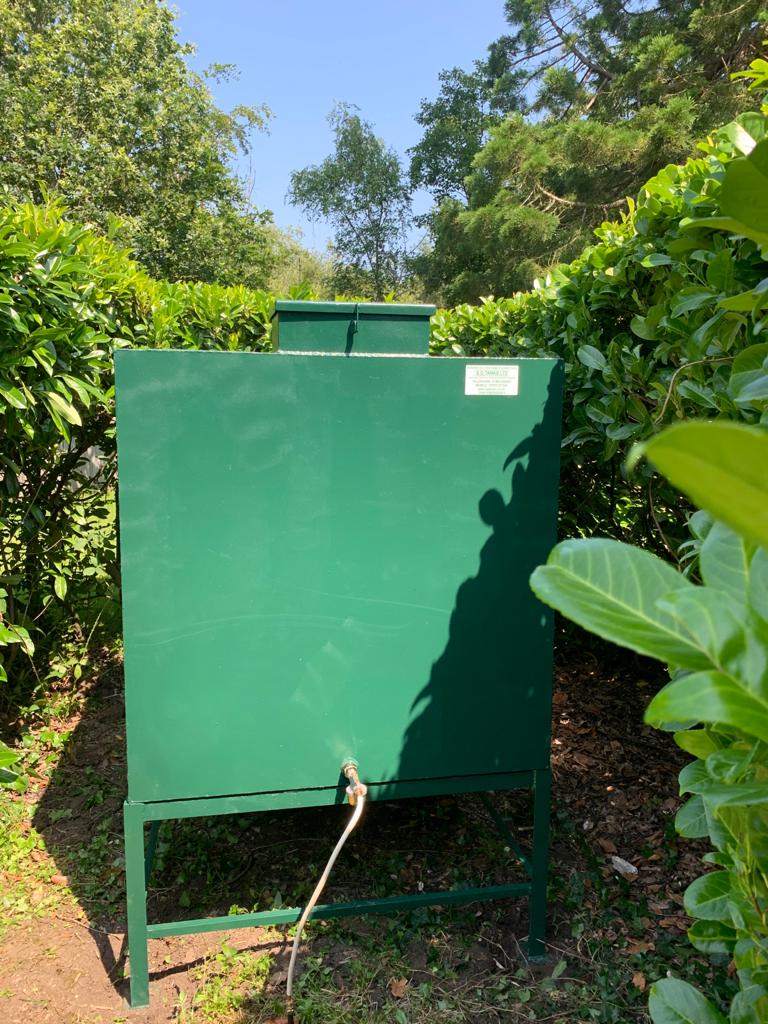 Choosing the right oil tank for your home or business comes down to more than just picking one that fits into the space. From what fuel you expect to store in it to the positioning of the tank itself, there are many defining factors for choosing the right one.
It's also important to check for accreditation from your supplier. For instance, all our tanks and services meet OFTEC (Oil Firing Technical Association) standards. Join us as we discuss the methods for ensuring you choose the right oil tank for your needs.
Tank material
One of the first considerations to make when looking for an oil tank is the material it is made from. The question is whether you choose a steel or plastic oil tank.
Steel tanks are ideal for security to protect the fuel inside plus they are more durable in extreme weather. Typically, steel oil tanks have a larger storage volume than plastic so they are better for those who use more oil, commonly businesses or large households.
On the other hand, plastic oil tanks are great because they are lighter, meaning they are easier to transport should you need your oil in more than one place.
Plastic oil tanks won't rust so their filters are less prone to corrosion and the outside remains looking fresh without the need for repainting. One final benefit of a plastic oil tank is how flexible they can be, allowing them to regain their natural shape after bad weather and making them less likely to crack.
To bund or not to bund?
Much like the material type, another of the immediate considerations to make when choosing an oil tank is whether to opt for single skin or bunded.
Single skin oil tanks are fairly self-explanatory and have just one outer wall, known as a 'single skin.' Bunded oil tanks, on the other hand, have a second outer layer which is predominantly for catching leaks and offering extra protection for the outer shell.
The choice of bunded oil tanks or not comes down to a couple of factors. Single skin tanks are cheaper than bunded, plus they are easier to maintain. However, bunded tanks offer better protection for your fuel and reduce the risk of oil spills on your property.
Property size and people living there
Naturally, the larger your property the more energy it will take to heat it. The size of your home isn't the only thing to consider, though, and it's also important to remember how many people live there.
The average home uses around 1,800 litres of heating oil per year but larger homes with more people in them tend to use more. For that reason, it may be better to invest in a larger heating oil tank, which will require fewer refills. Also, the more oil you can order in one go, the more cost-effective it will be to heat your home.
Space for tank storage
Linked to your property size, it's important to also consider how much space you have for an oil tank. In an ideal world, there would be enough room on your property to store a year's worth of heating oil, but in truth that's going to require a large tank.
You may also wish to consider how you can conceal your oil tank once it is on your property. An industrial-scale oil tank is going to be harder to hide behind plants or a trellis than a smaller tank that is better suited for residential use.
Furthermore, you don't want to take up your entire garden or garage with an oil tank and diminish your leisure or storage space.
Tank base
Similar to the space for the oil tank, it's important to know that a suitable base is required by building regulations. The base must be made of adequate materials that can fully support the weight of a full tank – typically concrete or stone slabs.
Bases are larger than the tanks themselves and must extend 300mm or more beyond the tank's widest point.
It's important to install the right base to minimise the risk of oil spillages seeping into the ground below the tank. This additional room may influence which tank you opt for, as the space you had in mind may be too small if you haven't made an allowance for the base.
Looking for a new oil tank?
Using the correct fuel storage type is important for complying with building and residential regulations. That's why it's essential to get it right when choosing a tank for your property.
Here at SG Tanks, we specialise in steel and plastic oil tanks, be that installing, repairing or removing – we cover it all! If you would like any further advice do not hesitate to get in touch, where we can guide you to the best oil tank for your home or business.